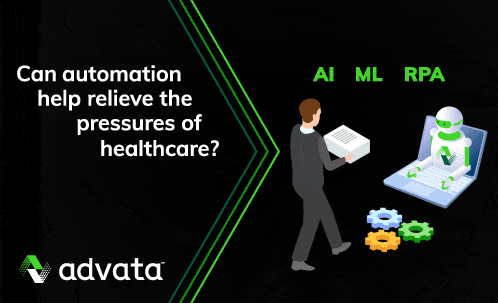 Can Automation Help Relieve the Pressures of Healthcare RCM?
Written By: Fina Taylor and Elizabeth Kokoszka
As we get used to co-existing with COVID-19 and the world continues to open back up, in-person activities are resuming in our personal and professional lives. For many, that means a slow return to conferences and other industry-specific events, like this year's HFMA Annual Conference hosted in Denver, Colorado. For us, it just happened to coincide with the culmination of the months-long process of combining six product companies and launching our new brand, Advata.
Advata is an advanced analytics software company with a suite of software as a service (SaaS) product that drives better healthcare. We offer revenue cycle management with responsible AI (artificial intelligence), ML (machine learning), and RPA (robotic process automation) to optimize revenue. Advata helps organizations assess and prevent denials, improve revenue through accounts receivable (AR) resolution, identify and execute automation opportunities, and streamline workflows. One theme we continue to see in healthcare is an increasing appetite for automation, but the right application and fit isn't always clear.
At HFMA, the promise of automation as the future of healthcare dominated both the vendor presence and the educational sessions. The overarching theme was clear. It provided clarity around the different types of automation, the circumstances within healthcare that are impacting the opportunities for automation, and the importance of finding the right tech for the right fit. Below are our key takeaways from this year's conference.
Interest and Adoption of Automation is on the Rise
Staffing is at the top of everyone's mind. The revenue cycle is no exception, with a recent study showing that 40 percent of revenue cycle leaders are reporting over 10 vacancies. This unprecedented number of vacancies has left leaders struggling to perform necessary revenue cycle functions and placing more pressure on remaining staff – further exacerbating burnout. With no relief in sight, leaders are turning to automation to address repetitive tasks, freeing time for more complex work.
While automation offers great promise, it's also important for providers not to limit their technology strategy to automation. High-performing health systems have technology strategies that automate functions and incorporate technology that improves productivity and optimizes processes. A multifaceted approach allows you to prevent problems (like denials), not just work problems once they've already happened.
Unfortunately, many vendors only offer automation and neglect the root cause. To automate and optimize, providers need a vendor who is a true technology partner with a range of deployable solutions and expertise in understanding the problem and selecting the appropriate technology solution.
Types of Technology
In healthcare, the terms AI, ML, and RPA are often used synonymously to describe the different approaches an organization may take to relieve some of its biggest pain points. However, it's important to understand the difference between the technologies to help identify the right fit for the situation.
Artificial Intelligence and Machine Learning
AI is the acquisition and application of knowledge in a way that mimics and enhances human intelligence and decision-making capabilities. Machine learning is a subset of AI. It is the ability to use algorithms to analyze and learn from data and apply that learning to future operations. Advata's denials analytics product uses ML to generate intelligence around claims, denials, and payments to help you rapidly identify trends and bad behavior.
Robotic Process Automation
RPA is a type of technology that is used to automate specific tasks by mimicking actions that are done by humans. RPA is a great fit for manual, rule-based, and repetitive tasks. By automating low-value tasks using RPA, your staff can dedicate more time to higher-value tasks that involve nuanced decision making. Advata's automation tools use RPA to help automate low-value, time-consuming tasks such as claim status checks, authorizations, and adjustments.
Finding the Right Technology
A robust revenue cycle management (RCM) system is key for an organization to monitor and report on critical financial information and can help you identify problem areas and spot revenue leakage. Advata's RCM analytics and robotic process automation increase your profit margins, shows your financial data in various useable ways, support decision-making, and automate a significant portion of processes. With your data, we can determine what to automate and in the optimal order.
Typically, Advata's revenue cycle discovery will identify up to 50% or more automation opportunities within your current tasks and processes and can be done within weeks with the right data. The output of our discovery is a complete automation roadmap that shows you your top 10 automation opportunities and, in order of priority, ensures maximum return on investment (ROI). To learn more, click here.